Cats painting available in giclée - canvas transfer, Prints, greeting cards, tote bag, t-shirts, ceramic plates and coasters.

More paintings in the store..
Swimming Pool
Mural Painting Montreal
Pool & Billiard
Mural Painting Montreal

Indian Restaurant
Mural Painting Montreal
Salon Reception
Decorative Landscape
Mural Painting Montreal
Aquarium
Decorative Painting
Mural Painting Montreal
Home Cinema
Ceiling Airbrush Painting
Mural Painting Montreal
Italian Restaurant & Bakery
Mediterranean Mural Painting - Montreal
Paris
Mural Painting - Montreal
Four Seasons
Spring, Summer, Autumn, Winter
Mural Painting - Montreal
Grass Painting Technique
Mural Painting - Montreal
Sky and Clouds Ceiling
Mural Painting - Montreal
MURAL PAINTING PROJECTS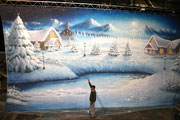 "Backdrops"
Mural Painting
Scenic Backdrops Theater Decoration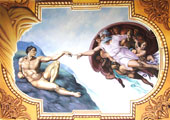 "Renaissance Ceiling"
Trompe-l'œil Mural
Ceiling Decoration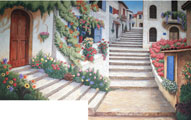 "Old Street of Venice"
Mural Painting
Dome Decoration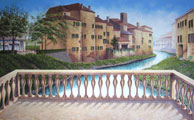 "Tuscan Italian Garden & Architecture"
Trompe-l'œil Mural
Living Room Decoration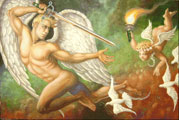 "The Savior : Neoclassical Painting"
Mural Painting
Dining Room Decoration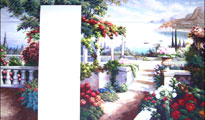 "Mediterranean Views : Cyprus"
Mural Painting
Dining Room Decoration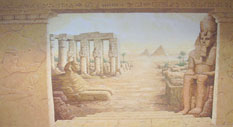 "Egyptian Ruins"
Trompe-l'œil Mural
Egyptian Antique Room Decoration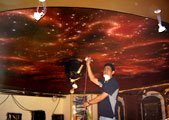 "Home Cinema Cosmic Ceiling "
Ceiling Mural Airbrush Painting
Home Cinema Decoration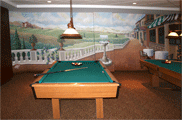 "Pool & Billiard"
Trompe-l'œil Mural Painting
Recreational Facility Decoration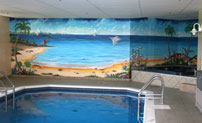 "Swimming Pool"
Trompe-l'œil Mural
Swimming Pool Decoration
Mural Painting History:
The earliest known mural art is the paintings discovered in Chauvel Cave in France in 1994; these are estimated to be 31,000 years old. Like the later cave paintings at Altamira, Spain (1879), and Lascaux, France (1940), animals are depicted in yellow, red, black, and brown earth pigments.

Beginning in the 3d millennium BC, Egyptian artist decorated the wall of tombs with formal scenes of warfare, hunting and ceremonies. Fresco was first used (c.1700 BC) in the lively work of Minoan Art Crete, Although little remains of these early efforts. Largely vanished also are the epic murals of classical Greece (6th-5th centuries BC), to which Greek literature often refers. Most direct knowledge of Greek wall painting comes from the sophisticated and action filled mosaics of the Hellenistic period, on which the Olynthos mosaics (c.400 BC) are the prime example. Roman artists adopted and developed the art of mosaic, and they filled the walls of homes and temples with naturalistic wall paintings such as those preserved at Pompeii and Herculaneum Pompeiian paintings reflect the great range and expertise of classical muralist, who were adept at depicting illusionistic (trompe l'oeil) architectural settings and realistic landscapes, animals and portraits.

From approximately the 4th through the 13th centuries mosaics dominated European mural decoration, reaching an unsurpassed peak of richness and color in Early Christian Art and, especially, Byzantine art. The notable centers of mosaic production were Ravenna, Italy, and Constantinople (now Istanbul), where Byzantine artist perfected a stately, hieratical, and two-dimensional style that influenced almost all forms of pictorial expression in medieval Europe.

The dethronement of mosaic as the preeminent medium of European mural art occurred in 14th-century Italy, where fresco was reborn in the Genius of Giotto and Simone Martini. In Giotto's Arena Chapel frescoes (c.1305, Padua) the pictorial depth and narrative interest of classical art returned to mural painting, banishing the static flatness of mosaic art. Giotto's revolution in mural art was carried on and broadened by the great painters of the Early Renaissance period (c.1420-1500), the most notable of whom were Fra Angelico, Masaccio and Piero della Francesca. The high point of Renaissance fresco and one of the greatest expressions of mural art came in brief span of 20 years (1495-1515) , with the unparalleled freedom and beauty of Leonardo da Vinci's "The Last Supper" (1495-98; Santa Maria delle Grazie, Milan); Raphael Sanzio's "School of Athnens"(1510-11; Stanza della Segbatura, Vatican) and Michelangelo's Sistine Chapel ceiling (1508-12). Throughout the remainder of the 16th century, Italian Late Renaissance and Mannerist painters such as Paolo Veronese and Giulio Romano experimented with illusionistic (trompe l'oeil) ceiling and wall frescoes that emphasize technical virtuosity.

During the baroque period of the 17th century, fresco gave way to panel painting in mural art, and dramatic, exuberant wall decorations such as Peter Paul Ruben's Marie de Medici cycle (1622-25; Louvre, Paris) filled the palaces and villas of northern Europe. The kinetic drama of baroque wall painting was followed by the bold romanticism of Eugène Delacroix's murals for Saint Sulpice (1856-61) and the Louvre (1859-51) in Paris.
Mural painting generally declined in importance during the 19th century, although neo-Gothic movements such as the English Pre-Raphaelites and the German Nazarenes resurrected some of medieval mural art. Modern interest in this ancient art form was rekindled, however, the murals executed in the 1890s for the 1893 Chicago World's Fair by Mary Cassatt, Kenyon Cox and others the Boston Public Library by Pierre Puvis de Chavannes, John Singer Sargent, Library by Pierre Puvis de Chavannes, John Singer Sargent and others. These public works led directly to the three major movements that have dominated 20th-century mural painting: the muralist of 1920's and 30's, the American muralist of the 1930's and early 40's, and the outdoor-urban muralist of the contemporary era.
The Mexican muralist, especially Diego Rivera, José Clemente Orozco and David Alfaro Siqueiros, used fresco and other mural techniques to express revolutionary themes. Rivera's work in the United States influenced socially conscious American artist of the Depression era, who, between 1935 and 1943 hundreds of murals for public buildings under government-sponsored art programs. Great freedom and variety characterized the work of such muralist as Stuart Davis and Ben Shahn and the regionalist Thomas Hart Benton.

The influence of the muralist of the 1930s has been carried over into new schools of mural painting, beginning with the ghetto and counterculture urban wall painters of the 1960s and '70s and the graffiti artist whose work began to receive serious attention in the 1970's. The tradition of amateur mural making in neighborhoods lives on, while contemporary professional muralist are commissioned by entities ranging from municipalities to corporations.

Faux Finish - Stair Painting Decoration - Montreal

The Art of Faux Finish
Faux painting or Faux finishing are terms used to describe a wide range of decorative painting techniques. The naming comes from the French word faux, meaning false, as these techniques started as a form of replicating materials such as marble and wood with paint, but has subsequently come to encompass many other decorative finishes for walls and furniture.

FAUX FINISH & FAUX PAINTINGS
Texture Samples & Techniques
ILLUSTRATION
An illustration is a displayed visualization form presented as a drawing, painting, photograph or other work of art that is created to elucidate or dictate sensual information (such as a story, poem or newspaper article) by providing a visual representation graphically.
History of Illustration

The earliest forms of illustration were prehistoric cave paintings. Before the invention of the printing press, books were hand-illustrated. Illustration has been used in China and Japan since the 8th century, traditionally by creating woodcuts to accompany writing.
15th century through 18th century

During the 15th century, books illustrated with woodcut illustrations became available. The main processes used for reproduction of illustrations during the 16th and 17th centuries were engraving and etching. At the end of the 18th century, lithography allowed even better illustrations to be reproduced. The most notable illustrator of this epoch was William Blake who rendered his illustrations in the medium of relief etching.
Early to mid 19th century

Notable figures of the early century were John Leech, George Cruikshank, Dickens' illustrator Hablot Knight Browne and, in France, Honoré Daumier. The same illustrators would contribute to satirical and straight-fiction magazines, but in both cases the demand was for character-drawing which encapsulated or caricatured social types and classes.

The British humorous magazine Punch, which was founded in 1841 riding on the earlier success of Cruikshank's Comic Almanac (1827-1840), employed an uninterrupted run of high-quality comic illustrators, including Sir John Tenniel, the Dalziel Brothers and Georges du Maurier, into the 20th century. It chronicles the gradual shift in popular illustration from reliance on caricature to sophisticated topical observations. These artists all trained as conventional fine-artists, but achieved their reputations primarily as illustrators. Punch and similar magazines such as the Parisian Le Voleur realised that good illustrations sold as many copies as written content.
Walter Ratterman, oil on Canvas, ca1927, Woman at a piano in elegant interior. Illustration for Good Housekeeping magazine.


Golden Age of Illustration

The American "golden age of illustration" lasted from the 1880s until shortly after World War I (although the active career of several later "golden age" illustrators went on for another few decades). As in Europe a few decades earlier, newspapers, mass market magazines, and illustrated books had become the dominant media of public consumption. Improvements in printing technology freed illustrators to experiment with color and new rendering techniques. A small group of illustrators in this time became rich and famous. The imagery they created was a portrait of American aspirations of the time. A prolific artist who linked the earlier and later 19th century in Europe was Gustave Doré. His sombre illustrations of London poverty in the 1860s were influential examples of social commentary in art. Edmund Dulac, Arthur Rackham, Walter Crane and Kay Nielsen were notable representatives of this style, which often carried an ethos of neo-mediævalism and took mythological and fairy-tale subjects. By contrast the English illustrator Beatrix Potter based her colored children's illustrations on accurate naturalistic observation of animal-life.
The opulence and harmony of the work of the "golden age" illustrators was counterpointed in the 1890s by artists like Aubrey Beardsley who reverted to a sparser black-and-white style influenced by woodcut and silhouette, anticipating Art Nouveau, and Les Nabis. American illustration of this period was anchored by the Brandywine Valley tradition, begun by Howard Pyle and carried on by his students, who included N.C. Wyeth, Maxfield Parrish, Jesse Willcox Smith and Frank Schoonover. A movement was started in Latin America by Santiago Martinez Delgado who worked in the 1930s for Esquire Magazine while an art student in Chicago, and later in his native Colombia with the Vida Magazine, Martinez a disciple of Frank Lloyd Wright worked in the Art Deco style. Also in the 1930s the influence of propaganda art and expressionism was felt in the work of the British freelance illustrator Arthur Wragg. His stylised monotone shapes suggested the block-printing techniques used for political posters, but by this time the technology of transferring artwork to printing plates by photographic means had advanced to the extent that Wragg could produce all his work in pen and ink.