Four Seasons Mural Painting
These four seasons mural paintings for store window display is a project of my co-artist Andrei Valentin. His client requires one painting design idea and repeatedly made with the transition of the four seasons such as SPRING, SUMMER, AUTUMN and WINTER.
The paintings was done in acrylic, the dimension is 60"x120" and was divided and slice in three parts of 24" - 48" - 48" to fit in the store display.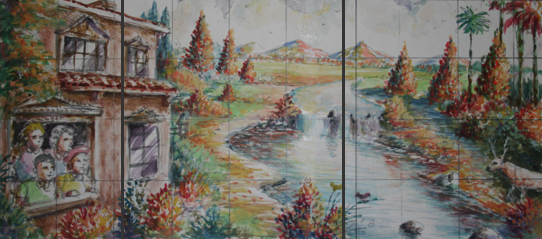 Autumn - rough sketch presentation.

Making the scene of each four plates painting was simplified to a simple background of sky and misty mountains, a perspective river with plants & trees, and a house with kids in the window of four races.
Changing the mode of each season depends on color expressions, for the spring - we uses colors of the range of blue tones, for summer - gradually increasing the yellow, greens and hot colors, for autumn - the hot colors of red, orange and browns - and for the winter - the coldest colors of light blues and grays.
Some important accents of animals appears on each season, the happy fish of spring, the squirrel of summer, the duck of autumn and a cardinal red bird of winter, and a deer that stands the same for four seasons.