CHILDREN'S MURAL PAINTING
Disney Princessess
These children's mural painting with Disney characters of princesses are the most favorite subject to create a murals for baby girls. Decorative painting of full wall surround landscape view is a special project in this nursery bedroom.
The design of this nursery mural was derive from a collection of series of photo images from the internet and join them to create the desired layout.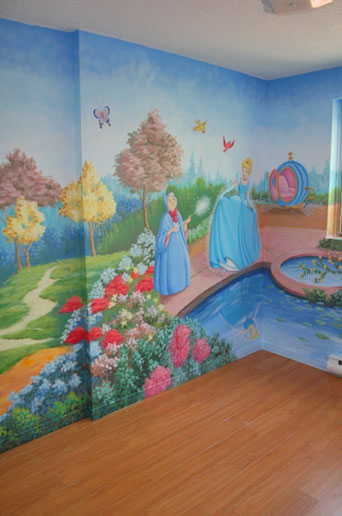 Children Mural Disney Princess Cinderella
In this section were the crib position is design to create a magical backgroud, the idea is to paint Cinderella with her fairy god mother.
All of the references, images and materials are sourced from the internet and design to create a montage.
After creating several thumbnail sketches and compositions, editing the details, the choice of colors are define and balance the warm and cool colors.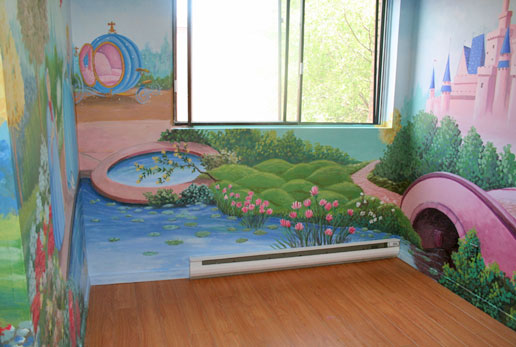 Children Mural Disney Princess Castle
The transition of scenes are merges and enhance with the unified color motif of pinks, light blues and greens.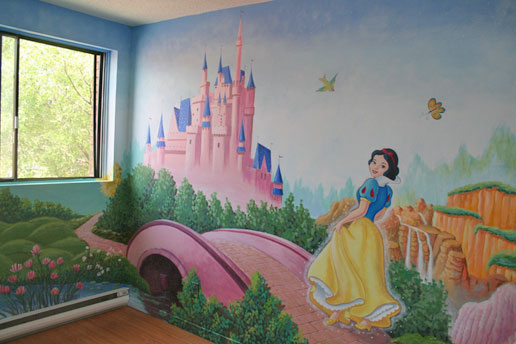 Children Mural Disney Princess Snow White
In this section is the image of Snow White walking on the bridge with the castle.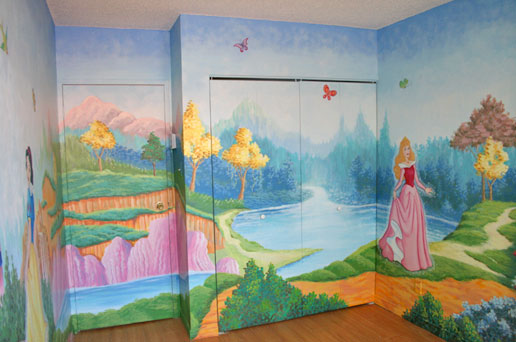 Children Mural Disney Princess Aurora
Giving its full illussions, the door entrance and the locker are over painted to include the panoramic view of the theme.
Modelling the colors using acrylic paint with quality neons that maches the Disney range of colors are very important. The rich and vivid colors create the atmosphere of animation and excitement.
Oil portrait Disney princess painting
Custom made to order oil portrait with Disney golden princess costume and tiara, enhanched with design of towering castles at the background, oil painting on canvas.